On glorious windy evenings at Mida Creek Beach in Kilifi, the magical blends of bright red and bright orange and yellow hues across the sky are enchanting.
Often visitors spend their chatty evenings sitting along the beach where silhouettes of mangrove trees loom, sometimes watching the silvery reflections reflect off the seawater. But during the day, dozens of fishermen and tour guides kill for the day, fish and guide visitors along the boardwalks. Often during breaks they sneak into the mangroves to check on their beehives, a business they engage in both to increase their income and to conserve the mangroves.
"Having the highest concentration of mangrove species here means this place is unique not only for researchers and visitors, but also for us as a community. Because of this, we realized that we needed to strengthen the protection of mangroves as a community. Beekeeping in the mangroves has been a more sustainable way to do this," says Khamis Omar, a member of the Mida Creek Conservation and Fisheries Outreach Group.
Mida Creek is a tidal inlet that spans 32 km² and is home to some of the world's few concentrations of mangroves. It is home to eight species of mangroves, making it one of the largest preserved mangrove ecosystems in the world.
It is an important breeding and feeding ground for rare fish species including parrotfish, rabbitfish, trevallies, snapper, groupers, emperors and barracudas.
The creek is also designated as one of Africa's largest bird sanctuaries, home to hundreds of migratory and resident bird species, including those that are regionally and globally threatened. It is recognized as an important bird area and a haven for water fouls and other migratory birds from Europe and Asia.
Together with the Arabuko-Sokoke Forest, they form a UNESCO Biosphere Reserve, meaning they are jointly recognized internationally as areas of terrestrial and coastal marine ecosystems, which demonstrate conservation and development approaches sustainable.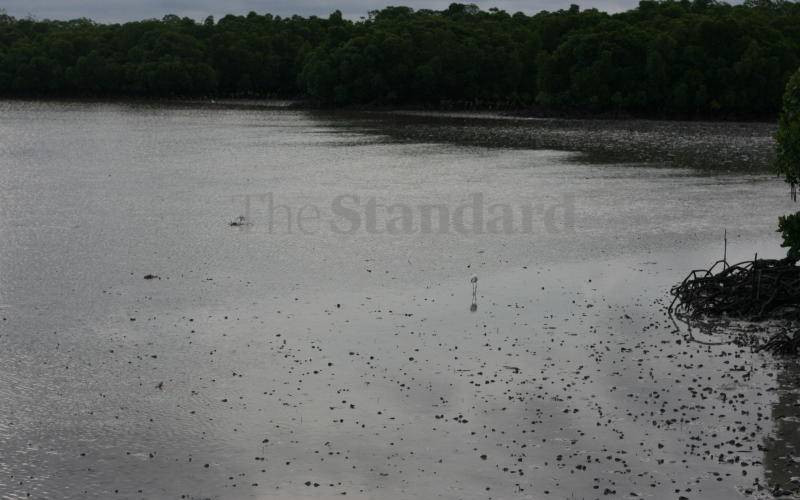 Importance of mangroves
But despite the importance of mangroves in Mida Creek, it is the main source of energy for the communities living around, being a source of firewood and charcoal. This, however, threatens the sustainability of the mangrove forest.
"In addition to advocating for good fishing practices, we realized we needed these mangroves because they also provide essential breeding grounds for fish, and we took the initiative to carry out cleanups and beekeeping to facilitate the monitoring of these forests. You will surely have one of our members checking the hives whenever he has breaks," Omar said.
While the majority initially practiced beekeeping in arid zone forests, changing weather conditions characterized by longer dry spells experienced in recent years have caused bees to move away from hives due to lack of flowers and of water. "But in the mangroves, there is water although salty and the mangroves thrive in such an environment. As part of adapting to the changing weather conditions, we realized that we also needed to start raising bees in the mangroves," says Omar.
While honey from terrestrial forests has a sweeter taste, honey from mangrove forests has a salty tint.
The 28-member group currently owns 15 beehives and has undergone beekeeping training to bring endangered honey back to market.
Farmers learn to observe the behavior of bees, to observe when they colonize and when to harvest. "It is no longer a secret that the impacts of climate change are being felt almost everywhere. This means that communities must adapt. In partnership with communities, we have provided beehives and linked farmers with training and so far they are doing very well," said Francis Kagema, Coast Regional Coordinator for Nature Kenya.
He added that while Mida Creek is made up of a rich, complex biodiversity that sustains adjacent communities, it is a haven for hundreds of rare species, including those on the International Union for Conservation and Conservation Red List. nature.
Although Omar said honey production is the same as in the terrestrial forest, the group has yet to officially package the honey from the mangroves to attract more customers. "We sell our honey at 1,000 shillings a liter to customers in the vicinity, mostly visitors to Mida Creek," Omar said.