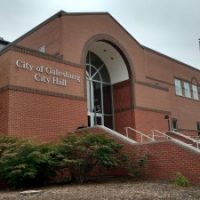 Galesburg City Council on Monday, June 20, had a busy and diverse agenda. They approved front grant deals for The Bar 65 and Iron Spike. The two projects are mainly financed by businesses but will allow two establishments in the city center to expand and improve their facades.
Aldermen have approved an ordinance that now allows beekeeping in residential areas. Keepers need only acquire the appropriate licenses from the Illinois Department of Agriculture.
Acting City Manager Wayne Carl also provided a quick update on Hawthorne Pools. He says the rust isn't as bad as feared, but due to rising construction costs, repairs would likely be as costly as originally anticipated.
Some public comments have also raised concerns about the security of the Broadview Hotel lot with Railroad Days around the corner. Community development manager Steve Gugliottas said staff have been looking at options for fencing around the building and possibly boarding in the future.
The Galesburg City Council also approved a resolution that signifies a new training tower for the Galesburg Fire Department. The tower is used to create realistic fire and rescue training for firefighters, but it is about 18 years old and no longer structurally safe to use. City staff applied for and received a $200,000 grant from the Illinois Department of Commerce and Economic Opportunity, and the city will pay the remaining $115,000. Aldermen Bradley Hix thanked Rep. Dan Swanson for his assistance in securing public funds.
Council also held a discussion on the Traffic Advisory Committee's recommendation that Council not allow UTVs or golf carts on public roads. Carl relayed the weighing of the benefits of TAC; like saving on gas and inconvenience; such as security issues. Carl said if the council wanted to license vehicles they could, but city staff would have liked to work on a licensing system. Some aldermen asked questions but did not say they intended to override the advisory committee.